NOVEMBER 2009 CANADIAN TOUR
Lulo Reinhardt, Itamar Erez, Stephen Bennett and Brian Gore
For the November 2009 Canadian Tour, IGN founder Brian Gore welcomes Lulo Reinhardt, a descendant of Django from Germany who mixes his family's trademark Gypsy Jazz with new forays into Latin music; Itamar Erez from Israel whose symphonic compositions echo his Middle Eastern roots, and renowned harp guitarist Stephen Bennett from Virginia.
The Performers
Lulo Reinhardt
Lulo Reinhardt is an extremely gifted guitarist who was taught by his father at the age of five. At twelve, he played in the Mike Reinhardt Sextett and later co-founded the group, "Django Reinhardt and the Heartbreakers."
His name has achieved international acclaim. In 1991, he founded "I Gitanos" with his father Bawo and cousin Dege, touring throughout Europe. He has played with Toto and Marta Glenn, released CD´s and played at the music festival "Rock gegen Hass"(Rock against Hate), another concert in aid of the north African Sahouri in the city of Tinduf, Algeria. In the meantime he has established an outstanding reputation as a composer and guitarist.
Lulo Reinhardt is a spontaneous and spirited musician who is led by the guitar into musical voyages of discovery. His curiosity has taken him to southern Spain in search of flamenco roots, and to South America, exploring various musical styles of Latin Jazz. Lulo expresses his artistic personality in his gypsy influences, reflecting his character.
Lulo Reinhardt´s music reveals his enthusiasm for virtuosity and spontaneity and at the same time, a deep melancholy and nostalgia- more imagination than reality. Inspiration and feeling of the gypsies are moulded by Lulo Reinhardt into a rythmic flowing symbiosis of elegance and spirit.
Stephen Bennett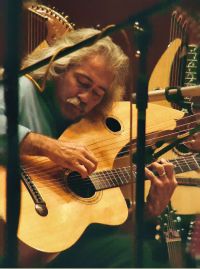 Whether playing his great-grandfather's harp guitar, his 1930 National Steel or a standard 6-string, Stephen Bennett is a guitarist to hear. His playing has won awards and critical praise. In live performance and on record, his diverse musical influences and interests are joined with a lifelong love affair with the sound of guitar strings.
Stephen Bennett was born in Oregon , grew up in New York and has lived in Virginia for the better part of the last three decades. Since his 1987 first-place win at the National Flatpicking Championship in Winfield, Kansas (The Walnut Valley Festival), he has become known as a versatile guitarist who consistently garners critical praise and audience enthusiasm for his recordings and live performances.
With his stellar musicianship, a relaxed stage presence, and quick wit, Stephen has performed throughout the United States and Europe, as well as in Canada, Australia and Japan .
With fifteen self-produced CD recordings to his credit at this writing, a new Stephen Bennett recording is probably in the works at any given moment…
Aside from his work on the six-string guitar, Stephen is also one of the world's premiere performers on the Harp Guitar, an instrument he indirectly inherited from his great-grandfather. As a composer and arranger, he has created an enduring repertoire and a significant body of recorded work for this instrument.
Additionally, he is the Founder of the Harp Guitar Gathering, an event that has occurred for five consecutive years (as of October 2007). The HGG seeks to celebrate all things harp guitar as it brings players, luthiers, scholars and fans together for a weekend of performances, workshops and camaraderie.
Slide guitar work on his 1930 National resophonic steel guitar is also an important part of Stephen's instrumental diversity. However, the image of Stephen Bennett embracing his harp guitar is the one that tends to linger. The fact that Stephen is only too happy to champion the cause of the harp guitar may inadvertently obscure his abilities on the six-string instrument. In what is becoming known as the Golden Age of Guitar Luthiery, it's easy to overlook the fact that this is also the Golden Age of Guitar Playing. With six strings or more, as one of the most original and prolific composers and arrangers for the guitar on the current scene, Stephen Bennett is clearly a part of the latter heritage.
Itamar Erez
Itamar Erez is an Israeli born Canadian composer, pianist and guitarist with a breadth of expression from European classical to jazz, world music and beyond.
Growing up in Tel-Aviv, Israel, Erez received several annual grants from the America-Israel Cultural Fund to support his early studies of guitar, piano and composition. Itamar has studied classical guitar with Mr. J. Urshalmi, known as a world expert in the classical guitar field.
Under his guidance Itamar has performed at the 2nd International Guitar Festival In Tel- Aviv (1988) with great success. Along his guitar studies, Itamar continued with his piano and composition studies with renowned teachers such as M. Wiesneberg (piano, theory) and Prof. Abel Ehrlich (composition).

Initial pursuing a classical career, Erez studied composition at the Robert Schumann Musikhochschule, in Dusseldorf, Germany with Manfred Trojahn and with Simon Bainbridge at the Guildhall School of Music, in London, England.
He also attended Film-Musik courses at the Darmstadt Institute for New Music and Music Education; and attended the Scottish Chamber Orchestra's Course for Young Composers on the Island of Hoy, Orkney, Scotland, with Sir Peter Maxwell Davis and Ms. Sally Beamish.
He returned to Israel to continue his studies with Mark Kopytman at the Rubin Academy of Music in Jerusalem. He continued his composition studies at UBC in Vancouver with Keith Hamel.

In 1994, Erez was short-listed for the English National Opera's Stephen Arlen Award.
In 1997 he was the recipient of the 1997 Israeli Prime Minister Creation Prize for Composers, and in 2000 Erez was a finalist in the 18th ALEA III International Composition Competition in Boston.

Erez's music has been commissioned and performed by various soloists, ensembles and orchestras throughout Europe, the Middle East, United States and Canada including The BBC Singers (UK), The Israeli Chamber Orchestra, The Ra'anana Symphonette Orchestra (Israel), Partita Radicale (Germany) ALEA III (Boston) and the Standing Wave Ensemble (Canada).

His works are published in Australia (http://www.redhouse.com.au), Israel and Canada, and Erez is an Associate Composer of the Canadian Music Centre (http://www.musiccentre.ca)

Itamar Erez also composes music for theatre, modern dance, and film. In 2002-2004 he has collaborated with director Rafi Spivak in the short films "The Man In Pajamas" and "Fragments of Proximity". The film "The Man in Pajamas" was featured in several film festivals in Canada and Europe.
While in Germany, Itamar has participated as pianist in Steven Berkoff's film 'Decadence', with famous film actress Joan Collins.

Erez has worked on music soundtrack for the documentary 'Raised To Be Heroes' for the 'National Film Board of Canada'. The film has been accepted to the prestigious 'Hot Docs' festival in Toronto, and to the Vancouver International Film Festival 2006. Itamar was nominated for the 'Leo Awards' for best score for documentary film in June 2007 for his work on that film.

Erez has been active in both the jazz and World Music idioms.
At 22 he made his debut performance at the Red Sea International Jazz Festival with his 'Itamar Erez Trio' performing his original compositions.

In 2003, Erez formed The Adama Ensemble, to explore the commonality of Middle Eastern, World Music and Jazz. The recent formation of the Adama Ensemble includes reed player Tony Nickels, bassist Laurence Mollerup, and Stefan Cihelka on tabla.
Performances included such venues as the 'Capilano College Theatre', The 'Norman Rothstein Theatre', 'Vancouver Community College Theatre' and more. ADAMA has released its debut CD 'Desert Song' in February 2006. The CD was received enthusiastically across Canada and receives regular airplay in various radio stations in Canada and the USA.

In the summers of 2005 & 2006 Itamar went to Spain to study with the great Brazilian composer Egberto Gismonti and the Spanish flamenco maestro Gerardo Nunez.

After his return to Israel in 2007, he started his Israeli 'Adama Ensemble' with some of the country's best musicians. Performances with the new ensemble included shows at the Givataim Theatre and Jerusalem's Confederation House.

Since October 2007 Itamar is part of Omar Faruk Tekbilek's group and is touring with this well-known world music maestro all over the world. Recent shows included London's Barbican Hall (UK), The Sydney Opera (Australia), as well as shows in Moscow & Seville.


Brian Gore
"Brian Gore's strong, well developed melodies and intriguing chord sequences set him apart from the myriad of steel-string fingerstylists who compose in open tunings. His finely crafted poetic "songs without words" take the listener on a spellbinding emotional ride."
--Ron Forbes Roberts, Acoustic Guitar Magazine
"An artist of the highest caliber."
--Ray Toumey, the Boulder Chautauqua
San Francisco guitar poet Brian Gore is gaining a reputation as one of the most interesting and influential performers of "the next generation" in fingerstyle guitar. A musical romantic, his compositions draw inspiration from myth and modern literature. Hailed as having "...one of the most unique new acoustic guitar styles on the scene today (News and Review)," his lyrical, understated compositions integrate classical and percussive techniques that display what the Los Angeles Times calls "a characterful bounce and spaciousness all his own."
Gore's style of playing offers strikingly beautiful tone and dynamics-- qualities that are often hard to find in steel string players. His melodic, evocative songs rely heavily on the use of open tunings, extending the "stream of consciousness" style of guitar composing he grew up with in Northern California. "Music started out as a kind of therapy for me," says Gore. "Consequently, I am a very emotional player. Now, my style of playing has also become a well honed craft. I am very grateful I can share this with people."
His buoyant personality and odd sense of humor help add lightness to his shows. "By the time I'm done with a performance," explains Gore, "people really know the meaning of the term 'extroverted introvert'." While Gore integrates some of the flashier percussive techniques into his pieces, the poetic quality of his music is preserved. "Because my music is simple and somewhat rootsy, it's easy to relate to, which is something I'm thankful for. Also, it helps keep me grounded."
Gore is an artist in residence at the Boulder Chautauqua, and endorses LR Baggs Equipment, Ryan Guitars and Morris Guitars. He is founder of the International Guitar Night, sponsored by Acoustic Guitar Magazine. His first CD, produced by Peppino D'Agostino, is called The Path of Least Resistance. His second CD, Legacy: Solo Guitar and Duets, is available on Germany's Acoustic Music Records Label. His music has been featured on NPR's nationally syndicated Echoes Radio, and many other local public radio programs.
Brian founded The International Guitar Night in 1995 as a forum for the world's finest guitarists/composers to play their latest original songs and share musical ideas with their peers in public concert. This has evolved into critically acclaimed annual tours in the US (starting in 2000), Canada (starting in 2006) and the UK (starting in 2007), a CD on Favored Nations Records released in 2004, a guitar instruction book published in 2005, and IGN releases on Warner Music Canada (the 3rd annual CD will be released in 2008).
Press Photos
Tour Schedule

2009
November 6 Port Theatre, Nanaimo, British Columbia
November 5 Massey Theatre, New Westminster BC
November 8 Alix Goolden Hall, Victoria BC
November 10 Arden Theatre, St. Albert AB
November 11 Southwood United Church, Calgary AB
November 13 River Run Centre, Guelph ON
November 19 Theatre Lionel-Groulx, Ste. Therese QC
November 20 Diffusions de la Coulisse, Beloeil QC
November 21 Theatre Hector-Charland, L'Assomption QC
November 24 The Studio at Hamilton Place, Hamilton ON
November 25 Brock University, St. Catharines ON
November 27 United Presbyterian Church, Toronto ON
Back to Artist Menu